[editar plantilla]
2016 was a year of celebrations where we closed a cycle and opened new opportunities for 31,847 Roma people to improve their living conditions.
2016 IN FIGURES
690 employees (29% are Roma)

630 volunteers (218 are Roma)

491 programmes in 77 locations accross 14 Regions of Spain

31,847 direct beneficiaries

120,448 participants in FSG programmes and activities

Employment
18,083 beneficiaries
3,743 people found a job through the Acceder programme
124 people found a job through the Learning by Doing programme
55 Acceder teams
931 training actions 
Access to employment is key in the fight against social exclusion and discrimination. At FSG we accompany service users, try to respond to their needs and help them gain access to paid work.
These figures are the result of our commitment to training and employment as a gateway to social inclusion and a key to reduce inequalities.
Initiatives such as Learning by Doing, where 39% of the participants who finished their training got a job and 36% decided to return to secondary education, build bridges that bring the Roma population closer to employment.
Our goal for the future is to strengthen the fruitful collaboration we have with our collaborating companies, and give them a more active role.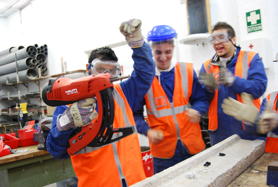 Acceder is a very effective employment initiative, achieving great impact on social and labour inclusion of the Roma population
Education
249 scholarships to continue post-compulsory education; 30 grants to study the Certificate Course on social intervention with the Roma community (organised by University of Navarre in cooperation with FSG); and 4 FSG/Luis Sáez grants for post-graduate studies
82 Promociona classrooms
1,292 pupils
413 schools
Although the educational level of the Roma community has improved significantly in recent years, there is still a very big attainment gap with other groups. Nowadays, Roma youth are reaching higher education levels than those of previous generations, but in general terms they are still less educated than the rest of the Spanish youth.
64.4% of Roma pupils between the ages of 16 and 24 leave school before completing compulsory secondary education (ESO). In order to reverse this situation, the FSG has set as its main objective to reduce the rates of early school leavers amongst the Roma population and to foster their academic success. Thus, since 2009, FSG has been running its Promociona Programme whose main aim is that Roma students complete secondary compulsory education.
At the same time, we aim to ensure that young Roma achieve ever higher levels of education, with actions aimed at supporting their access and permanence in post-compulsory education.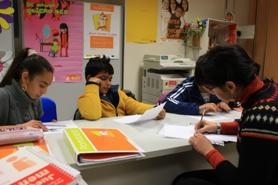 Education as a driver of change among Roma youth
Housing
We accompanied and offered guidance to 256 families accessing housing
In addition, in 2016 we presented the "
Study-Map on housing and the Roma population
" which is an updated diagnosis of the housing conditions of Roma in Spain. The report identifies the problems that still persist and seeks to sensitize decision makers in order to mobilize efforts towards their solution. The study was commissioned by the Spanish Ministry of Health, Social Services and Equality.
Social Inclusion
7,050 received assistance

5,263 families have received assistance on basic social issues

744 have received assistance on housing related issues

1,088 have participated in actions of health promotion. Among them, 628 Roma people from Eastern Europe have received comprehensive and adapted attention
We continue to advocate for policies that protect the most disadvantaged Roma families who are more at risk of social exclusion and whose access to fundamental rights is not guaranteed.
Equality
2,000 participants in awareness actions

380 victims of discrimination received support and advice

2 litigations in cases of anti-gypsyism

XI Annual Report on Discrimination and the Roma Community, which featured 194 cases, with 380 identified victims
In 2016, in addition to providing support and advice to victims of discrimination and antigypsyism, we have taken to Court two cases that we considered of strategic relevance.
We have accompanied the victims along the process of reporting these offences to the police, courts or the public prosecutor´s office and have also filed more than 15 complaints before other relevant Institutions.
On the other hand, through the Calí Programme, we work for the equality of Roma women and combat discrimination against the Roma community as a whole. This programme has been implemented in 28 cities and has a team assigned of 30 female specialists (28 Roma). And in 2016, we worked with a total of 627 women.



Awareness-raising
346,836 unique website visitors

7,838 e-newsletter subscribers

28,608 Twitter and Facebook followers
In 2016 we organised two big awareness-raising campaigns
#TrashTVisNotReality
 that condemns the image of the Roma community on reality TV programmes and
#Themostpainfultattoo
which shines a light on the social rejection suffered by thousands of Roma people.