THE ROMA POPULATION AND EMPLOYMENT
Some of the most relevant findings emerging from our latest comparative study (2011 data) on the Roma population and employment include:
6 of every 10 Roma persons older than 16 years old are illiterate. Only an estimated 10% successfully complete their secondary or further studies.
The Roma population presents a significantly higher activity rate, of 68.9%, than that of the population as a whole (60.1%), due to their early entry to employment, among other reasons.
38.5% of Roma persons are in salaried employment, while the majority population reaches a proportion of 83.6%. This enormous difference constitutes one of the key distinctive features of Roma employment, and a factor in the vulnerability of many Roma, given that salaried employment presupposes social protection and labour rights.
Among the Roma population in employment, 26% "participates in the family's economic activity", in comparison with 0.8% of the population as a whole.
Unemployment affects the Roma population to a greater extent than the general population, with a rate of 36.4% compared to 20.9%.
Among unemployed Roma persons, 14.2% are 16 to 19 years old, trebling the proportion found for this age cohort among the general population (4.5%).
6 out of 10 unemployed Roma found themselves in the same situation a year earlier, indicating a significant problem of long term unemployment. More than 22% of Roma lost their job in the past year.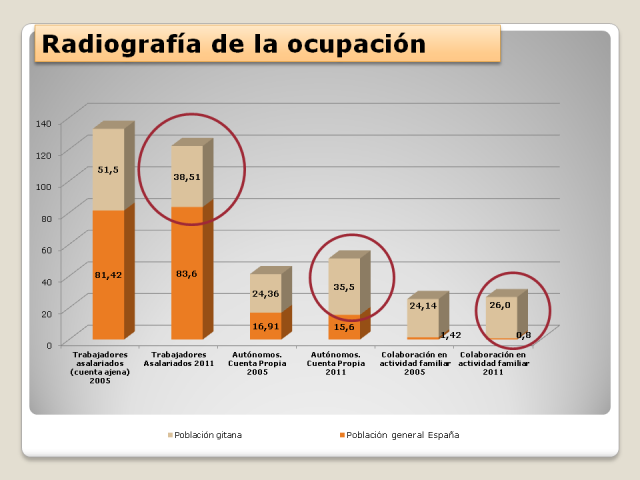 Unemployed population. Comparison between active Spanish Roma population and active general population. Sources: Roma population and employment. A comparative study, 2005, FSG. EPA 4º quarter 2004. Spanish Roma population and Roma population from Eastern Europe. Employment and Social Inclusion, 2011, FSG. EPA 2º quarter 2011
EVOLUTION OF THE SITUATION IN EMPLOYMENT (2005-2011)
The activity rate has practically remained unchanged since 2005 (69.3%), with a 0.4% decrease by 2011.
The unemployment rate of the Roma population has increased by 22.6% since 2005, especially as a result of the economic crisis in Spain.
In 2005 the unemployment rate of the Roma population was 3.4 percentage points above that of the Spanish population as a whole (13.8% compared to 10.4%); by 2011, this breach had substantially widened to reach 15.5 percentage points.
The part-time employment rate has remained virtually unchanged in the period under analysis, at circa 42%.
Between 2005 and 2011, the temporality rate declined by 17.5 percentage points, from 70.9% to 53.4%. This change has been produced by the shift from temporary employment to unemployment as a consequence of the crisis.
A change has been observed in the structure of employment of Roma since 2005, with a decline in the relative weight of salaried employment and an increase in self-employment. The proportion of self-employed Roma has increased by 11 percentage points, reaching 34.7%, and been matched by a similar decrease (10.6%) in salaried employment.
Roma involved in their family's economic activity continue to represent a quarter (26%) of the total number of Roma in employment, and circa 9 out of 10 of the former work without any labour contract, which aggravates the precariousness of this segment of the active Roma population.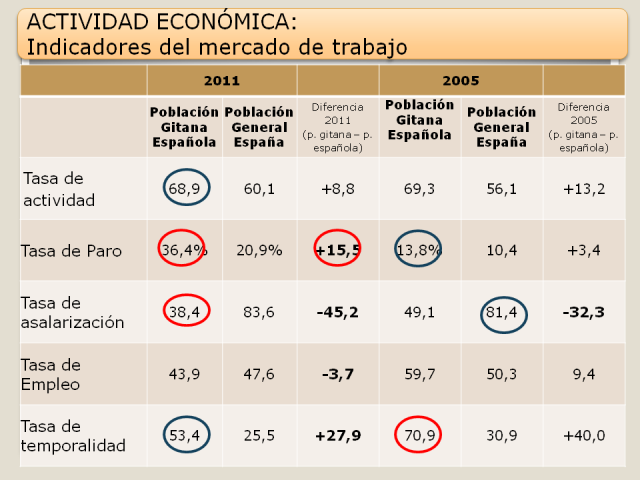 Source: FSG
Life stories of overcoming adversity
The video "Life stories of overcoming adversity" offers first-person testimonies of how Roma live their process of incorporation in the labour market (in Spanish).